Yosemite National Park offers some of the best backpacking in the country. Over 750 miles of established trail wind through scenery studded by granite peaks, wildflower filled meadows, rushing waterfalls, and high-elevation lakes. With so much to see and do, it can be challenging to choose a route as a beginner backpacker or first time visitor. Never fear, your antidote to choice paralysis is here. Read on for a list of our 4 favorite beginner trails, and tips to follow for a safe, successful trip in the Yosemite wilderness.
1. Tuolumne Meadows to Glen Aulin Camp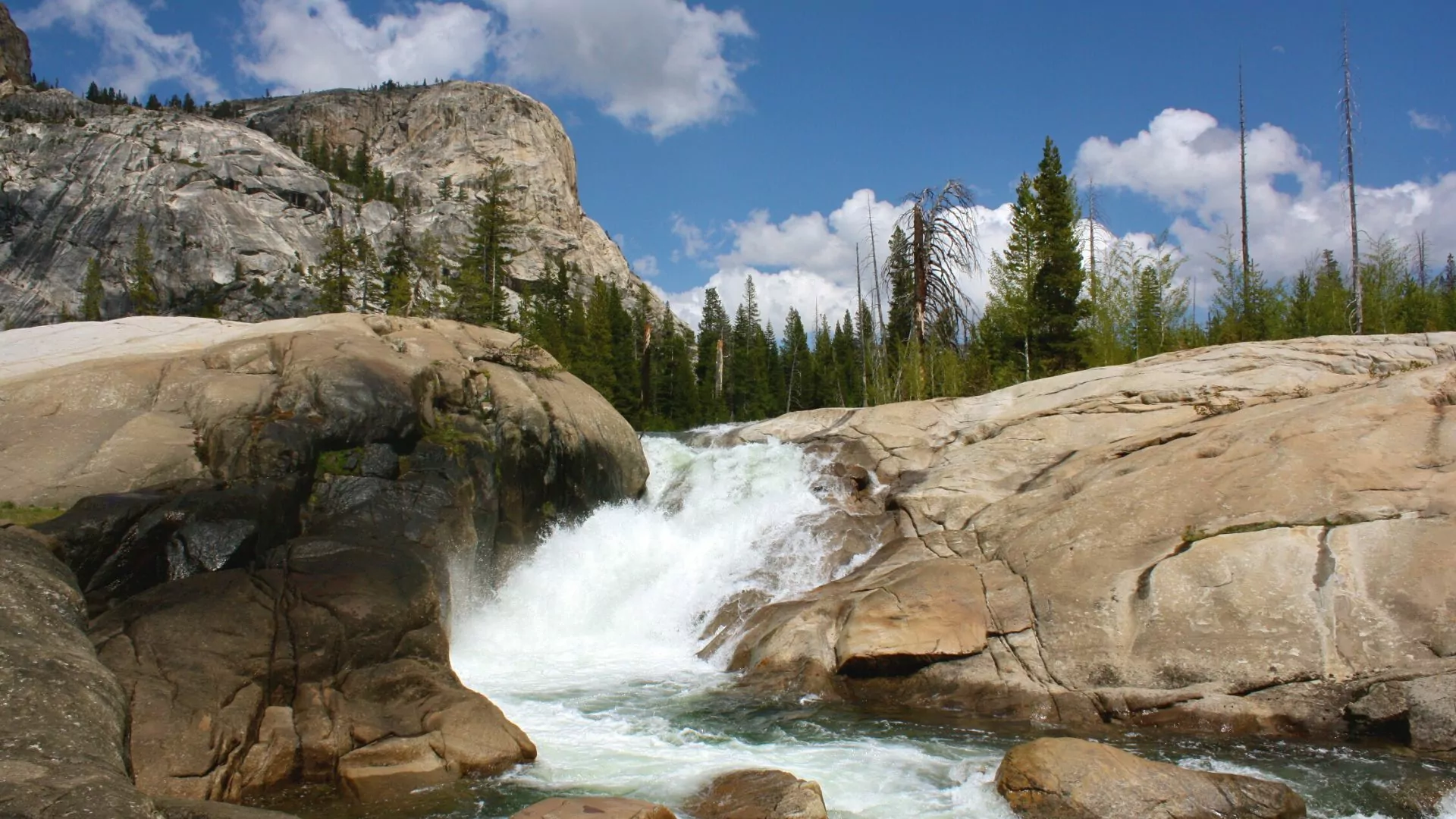 Mileage: 12.6 miles out-and-back | Length: 2-3 days | Elevation Gain/Loss: 750 feet
This trail is named for the gorgeous fall of the Tuolumne River. The trek to Glen Aulin Camp is a great fit for beginners as it is easy to follow and features very little elevation gain. 
As of March 2023, the backcountry parking lot at the Glen Aulin trailhead is not open and Park Service recommends overnight parking in Lembert Dome lot. The Wilderness Center is also acceptable overnight parking. Please note, each of these parking lots requires an extra mile or so of additional walking to reach the trailhead. Before you go, be sure to check the park website for updates. 
This trail follows the Pacific Crest Trail the entire way to the falls. While the meadow is well-marked, there are several trails that intersect this one, including a loop around the famous Soda Springs. As it adds less than a mile to the trip, this is a fun attraction to see. Informational plaques decorate the trail throughout the meadow, enhancing trail users' knowledge of the area's geology, biology, and history. As the trail meanders out of the meadow, it follows the Tuolumne River through beautiful forests that open up to views of the half a dozen or so granite domes in the area. After this absolutely serene hike, you will arrive at the Glen Aulin High Sierra Camp. Hikers could easily stay one night and head back out the next day or extend an extra night here to take day trips to California Falls or McGee Lake, each less than three miles round trip. 
Since this trail is surrounded by water, there will be spectacular wildflowers…and mosquitos. Aim to hike this route in late July or early August to try to catch the last glimpse of flowers while seeing fewer late season bugs. 
Go with a guide: Alpine meadows and waterfalls trek 
2. Ten Lakes Trail to Tenaya Lake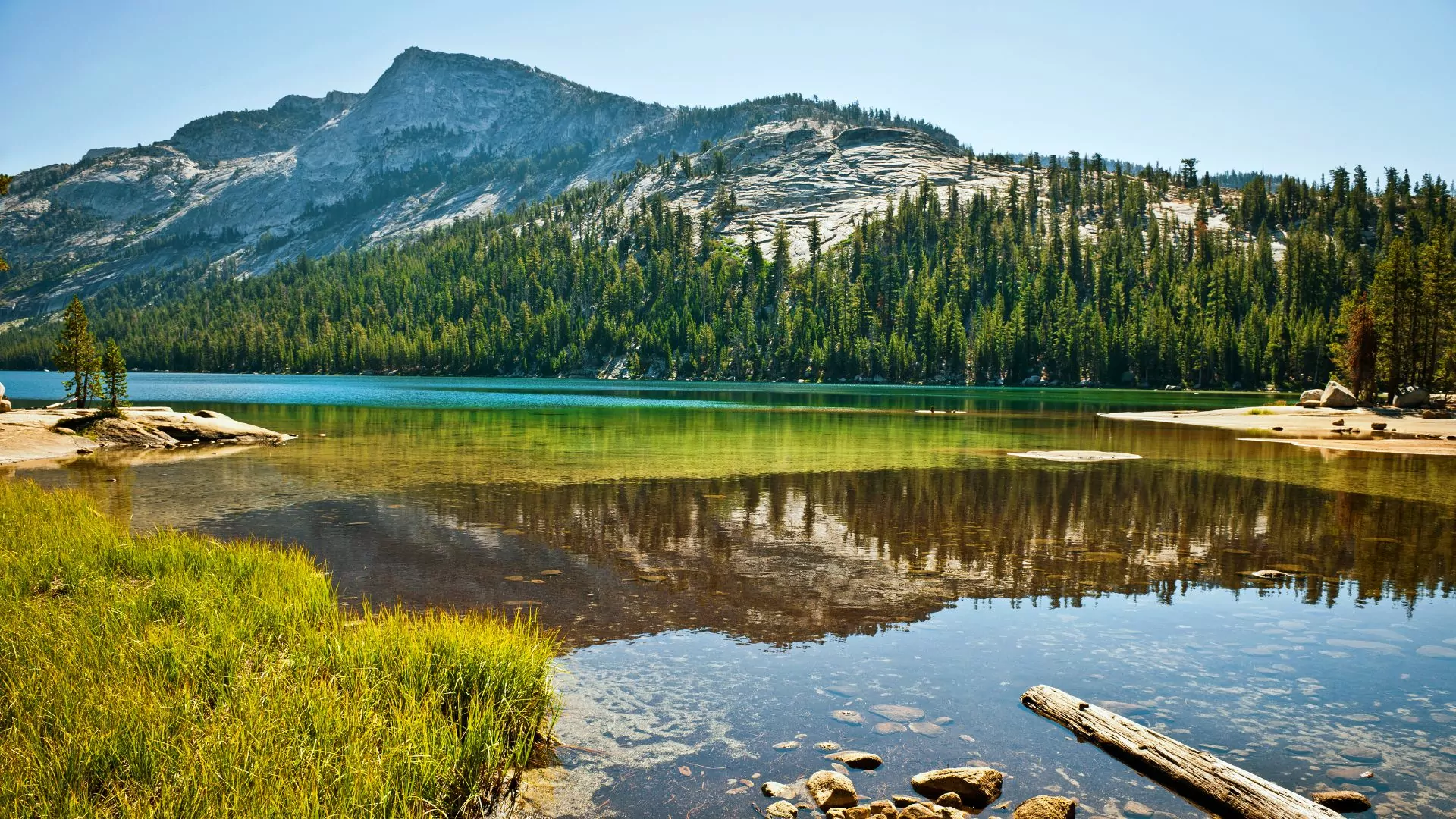 Mileage: 21 miles point-to-point | Length: 3-4 days | Elevation Gain/Loss: 5,040 feet
This hike covers a lot of ground in Yosemite's high country and travels around some of the most stunning mountain lakes. The trailhead for this hike is on Tioga Pass Road, west of Olmsted Point (which, by the way, is an amazing place to stop and take in the view!). This is a point-to-point route, which means that hikers will have to coordinate transportation from the ending point at Tenaya Lake back to their starting trailhead. The YARTS bus does stop at the White Wolf Lodge and the Tuolumne Meadows Visitor Center, but adds an extra 11 miles to your hike. However, because this trail is so gorgeous, that might not be the worst option. 
The trail starts through high-elevation forests filled with lodgepole pines, red firs, and western white pines. The first six miles will take you through meadows and creeks and above 9,000 feet to the heavenly Ten Lake Pass. Here there is an option to head south to Grant Lake (a quieter camping option) or east across the ridge and down into Ten Lakes Basin. Take your time here in the high country to breathe in the gorgeous views before your descent. The next day treats hikers to the pure granite of the High Sierra, speckled with wildflowers and stunning views. A hike of around 7 miles will allow for the option to camp alongside a creek. The next day, choose to exit by way of Tenaya Lake, or extend your hike by detouring to spend a night at May Lake High Sierra Camp. The hike from May Lake will only add around 2.5 downhill miles, and the trek out still leads to Tenaya Lake. 
Go with a guide: ten lakes basin trip 
3. Tuolumne Meadows to Yosemite Valley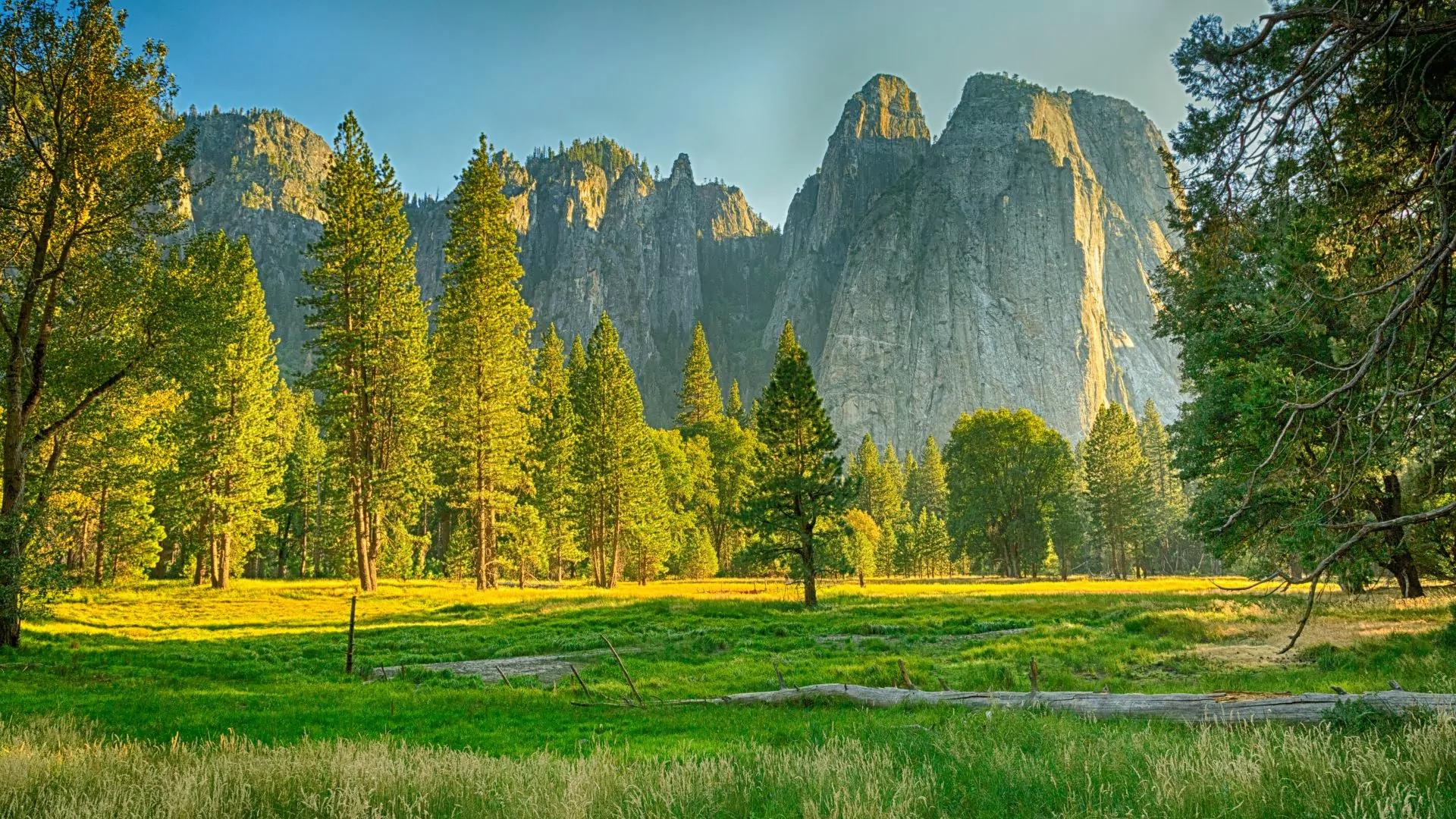 Mileage: 28 miles point-to-point | Length: 4-5 days | Elevation Gain/Loss: 2,500 feet
There is possibly no better way to see Yosemite than trekking from Tuolumne Meadows to Yosemite Valley. This hike delivers glimpses of all the sights: waterfalls, Half Dome, lakes, meadows, high elevation, granite, and rivers. There are a few different routes through this section of Yosemite's wilderness, but a good choice for beginners is to pick up the Rafferty Trail from Tuolumne Meadows Visitor Center, and connect to the Valley through Vogelsang and Merced Lake. Note, this hike is a point-to-point and will require the coordination of transportation between Yosemite Valley and Tuolumne Meadows – a one-hour drive or two-hour trip on YARTS public transportation. This hike is also best traveled west starting from Tuolumne Meadows – as starting in Yosemite Valley and heading east would result in roughly 4,000 feet of elevation gain in just the first couple miles. 
One recommended itinerary for this trip would be to hike ~7 miles on the first day from the Tuolumne Meadows Visitor Center into Vogelsang. This first day follows the beautiful Rafferty Creek through gorgeous meadows with views of the 11,110-foot Rafferty Peak. Vogelsang is a unique camping experience, as it is the highest-elevation High Sierra Camp in the park. This is a great place to take a rest day as day hikes to the nearby Fletcher Lake, Vogelsang Lake, or Ireland Lake are unbelievable. The following day, descend into Merced Lake, an 8-mile trek that follows Fletcher Creek and the Merced River. There is another High Sierra Camp at Merced Lake, awarding tired hikers a restful place to sleep among the pines. 
The final day of the trip will have more miles, but will almost exclusively be downhill. On this final leg of the trip, the trail continues to follow the Merced River into Little Yosemite Valley. This might be the most awe-inspiring section of the hike. As hikers trundle across footbridges, they will encounter multiple waterfalls ending with the majestic Nevada Falls. Take plenty of time through this valley and savor the last moments of backcountry serenity. Switchbacks send hikers to the Happy Isles trailhead near Curry Village. Pro tip: spring for the pizza in Curry Village as a much-deserved reward. 
Go with a guide: heart of yosemite backpack 
4. Yosemite Creek Trail to El Capitan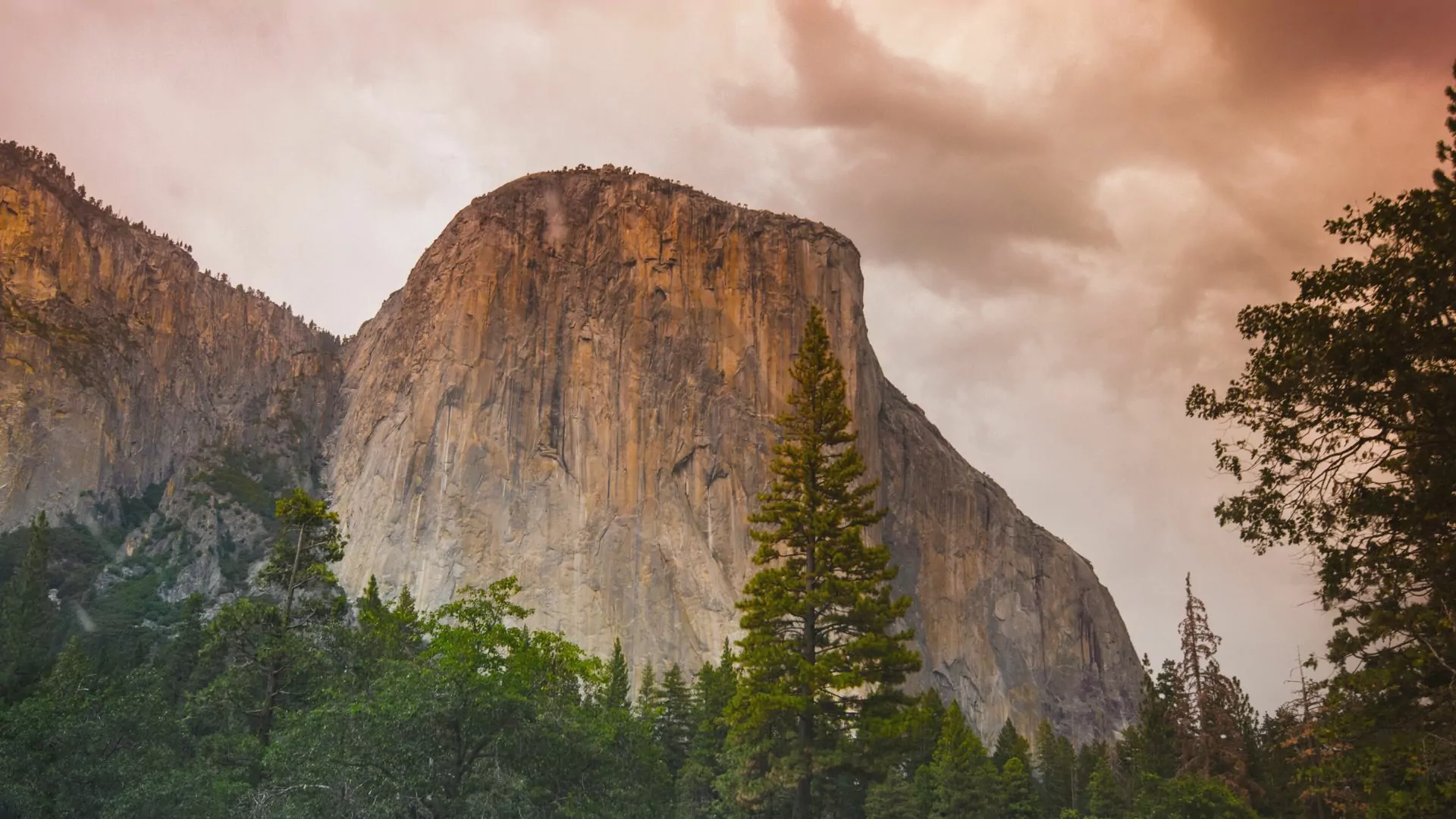 Mileage: 20 miles out-and-back | Length: 3 days | Elevation Gain/Loss: 1,200 feet
This is a spectacular trail that delivers hikers to the northern rim of Yosemite Valley and awards unbeatable views of the iconic valley and peaks. This out-and-back trail is also ideal for beginners as it is relatively flat with a short distance and requires very little coordination. 
From Tioga Pass Road, turn south onto a paved road at the McSwain Meadows for the Yosemite Creek trailhead and overnight parking lot. There is a Yosemite Creek and Ten Lakes trailhead on Tioga Pass Road, but it does not allow for overnight parking.
A recommended itinerary would be to spend two nights here to day hike and explore. To reach El Capitan, follow Yosemite Creek 5.4 miles to Eagle Peak Meadows. From here another 2 miles or so hugs the ridge and delivers you to the KP Pinnacle of El Capitan. The next day, a beautiful day hike can be had backtracking to Eagle Peak Meadow and heading east on the trail for another 4.8 miles to North Dome. Along the way, you will pass Upper Yosemite Falls. Rejoice in the views along this hike and at your campsite before turning back and heading up Yosemite Creek to the trailhead.
CONSIDERATIONS: 
Camping is not permitted at the top of Yosemite Falls, at Yosemite Point, or on the summit of North Dome. You must camp at least one-half mile from the North Rim of Yosemite Valley. 
Know Before You Go:
Permits
Permits are required for all overnight trips in the park. Yosemite makes 60% of its daily quota for permits available online through Recreation.gov starting at 7 a.m. 24 weeks in advance of a trip's desired start day. For example, if you want to begin your backpack on July 19, you can apply for a permit starting February 1. For popular trails, these permits are usually snagged by 7:15 a.m. (or earlier) of the day your advance reservation opens. The other 40% of permits are sold day-of in-person starting at 7 a.m. Fair warning, folks line up early at the ranger stations to grab these. 
Permits are notoriously difficult to obtain for Yosemite. One huge benefit of booking a trip with a guide company is that all permits are included – no 6:00 a.m. wake-up call necessary. 
Tips to get a permit online: 
Create a Recreation.gov account before the date you're trying to get a permit.

Be fully logged in with a credit card ready by 6:57 a.m. on the

Yosemite Wilderness Permits

page.

Plan your trip around the day you get your permit, not the other way around. Even if you follow the steps above, permits may still become unavailable by the time you get to them and it might take a few early mornings with this routine to get a permit. 

Plan to start your hike midweek as fewer people seek out these days. 
When to Visit: 
Over 3.3 million visitors a year flock to Yosemite National Park. The majority of these visitors enter the park June through September, though even winter months see over 100,000 visitors. During the peak visitation months, park entrance gates are congested during the day with wait times as high as two hours to enter. Avoid excessive waiting by getting to the gates before 9 a.m. or after 5 p.m. 
While the early spring or late fall months might mean less competition to snag an overnight permit, snow may be present during these months in higher elevations and nightly temperatures will likely be cold. Access to Tuolumne is also not available year-round. Tioga Pass Road is closed from October to May, depending on snow.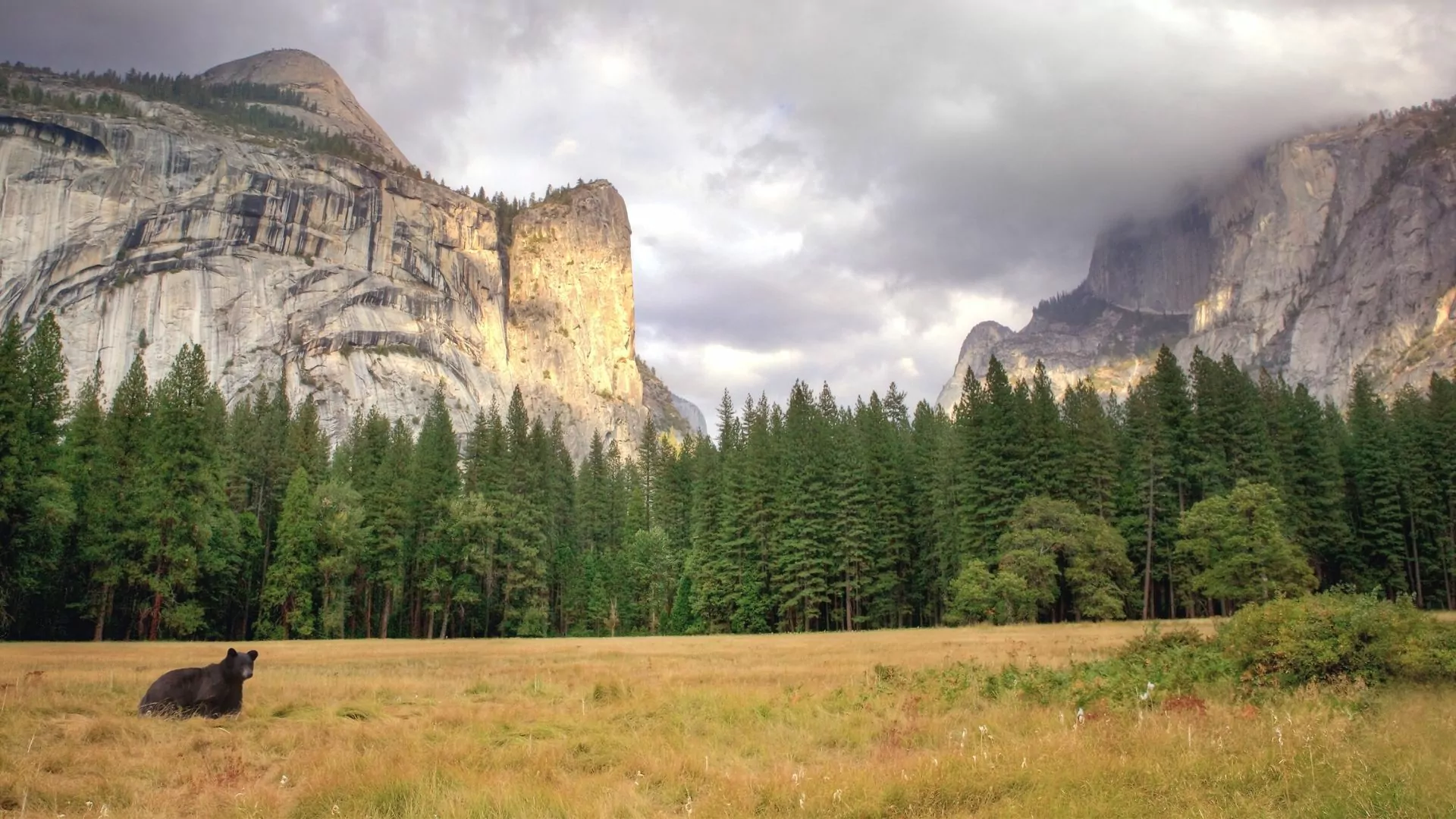 Other Things to Note:
Bear canisters are required for backcountry overnights

throughout the wilderness. You may

NOT

hang food from trees. When you pick up your permits or pass by rangers in the park, they will ask to see your canister. Rentals are available through the park if you do not already own one – information on obtaining one can be found here:

https://www.nps.gov/yose/planyourvisit/bearcanrentals.htm

.

There are four main entrances to the park. Three are on the west side, from California's San Joaquin Valley, and they include highways 120, 140, and 41. The fourth entrance is Tioga Pass Road (120 east) on the east side of the park, accessed from Lee Vining (the closest major city being Carson City, Nevada). 

There are various free shuttles and public transportation available throughout the park. Some point-to-point hikes may require the use of such transportation. Learn more here: ​​

https://www.nps.gov/yose/planyourvisit/publictransportation.htm

. 

Please practice LNT principles and practice good wildlife safety. Regardless of where you are in the park, the 7 principles of Leave No Trace are vital to keeping Yosemite and all public lands healthy and happy.

Thunderstorms are common in the park during the summer months, especially at higher elevations. The American Hiking Society recommends anyone caught in a storm seek shelter if possible, and otherwise distance themselves from exposed terrain, isolated trees, and metal objects. 

Temperatures can range wildly from afternoon to night. Be prepared for daytime summer temperatures up to 90 degrees in the valley, and nighttime temperatures as low as 30 degrees at higher elevations.

Know your limits.
Yosemite is a wild and wonderful place. If you're not quite ready to strike out on your own yet and prefer to explore your options for a guided backpacking trip, consider Wildland Trekking. Wildland trips are led by friendly, experienced, and knowledgeable guides, to ensure you get the most out of your backcountry experience. From permits, transportation and equipment, to good food and interpretive information, your guide will take care of it all. Basecamp and lodge-based options are also available.



Credit : Source Post