Canyonlands National Park boasts one of the most convoluted landscapes on Earth, with many places only visited by bighorn sheep and birds. The park is located near Moab in southeast Utah, at the confluence of the Green and Colorado Rivers. This is indeed a land of canyons, with countless tributaries flowing into these two major rivers. Most of the year, the majority of these canyons are bone dry, but during the late summer monsoon season, powerful thunderstorms unleash flash floods across the region.
Visiting Canyonlands is like visiting another planet. Nowhere else on Earth rivals this intricate landscape of geologic spectacles, wonders, and oddities. Despite the rugged terrain, people have been drawn to this region for thousands of years and the park protects many sacred Indigenous sites including rock art panels and ancient dwellings.
Canyonlands is also the least visited out of Utah's Big Five National Parks and it's definitely possible to find seldomly seen and eerily quiet corners of the backcountry in this spectacular but harsh landscape.
Ready to explore this incredible park? Here are 8 of the most scenic Canyonlands hikes to visit the park's colorful layer cake of canyons, cliffs, and spires.
Important Reminder: As it goes in all of the destinations we share, please practice good trail etiquette and remember to Leave No Trace. This means packing out all of your garbage (including toilet paper), being respectful to others on busy trails, and following the established rules.
---
Canyonlands National Park Layout
Canyonlands is divided into four districts: Island in the Sky, the Maze, the Needles, and Horseshoe Canyon, plus the Rivers district for paddling. Starting in the northern section of the park, the Island in the Sky protects the high-elevation mesa that sits between the Colorado and Green Rivers. Island in the Sky is the most popular section for drive-thru visits and short hikes, as there are many spectacular viewpoints a short walk from a paved road. If you want to explore a little farther on foot, there are also several incredible day hikes in this district.
The Maze and Needles districts lie to the south of the Island in the Sky, with the spire-studded Needles on the east side of the Colorado and the mysterious Maze on the west side of the Green and Colorado Rivers. These areas of the park are harder to access, with the Maze requiring a burly 4WD vehicle and significant route finding. The Maze and Needles districts are most popular for longer day hikes and backpacking trips, as many areas require long, twisting approaches through deep canyons. 
Join our community for access to our free member resources!
Download our Handy Outdoor Packing Checklists and Trip Planning Guides
Horseshoe Canyon (not to be confused with Horseshoe Bend in Arizona) is a remote, geographically separate district located northwest of the rest of the park that was set aside to protect sacred Indigenous rock art sites. This area can be accessed from the north, near Green River, or from the west, near Hanksville, down long washboard (but two-wheel drive accessible) roads, at least when dry. One of the most striking pictograph panels in North America can be seen here on a long day hike.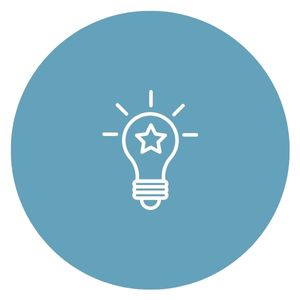 Park visitors who are new to desert hiking should start in the Island in the Sky district, which has several short and scenic trails with sweeping views. Hiking in the Needles or the Maze districts of Canyonlands is not for the inexperienced. The more popular park trails are usually well marked but the more remote regions, including the aptly named Maze, require advanced navigational skills. We include hikes from every district below.
---
Best Time of Year To Hike Canyonlands National Park
Canyonlands National Park, like most deserts in the Southwest, is best visited in the spring or fall, when temperatures are milder.
Certain areas of the park can be accessed in winter, a uniquely beautiful time to visit as trails and overlooks are much quieter and snow can add a breathtaking new dimension to the red rock canyons.
Summers are dangerously hot with no shade and little water. In late summer, flash floods regularly scour the landscape. If you do visit from June to August, plan to hike very early in the morning or late in the evening to avoid the deadly heat of the day and always keep an eye on the weather.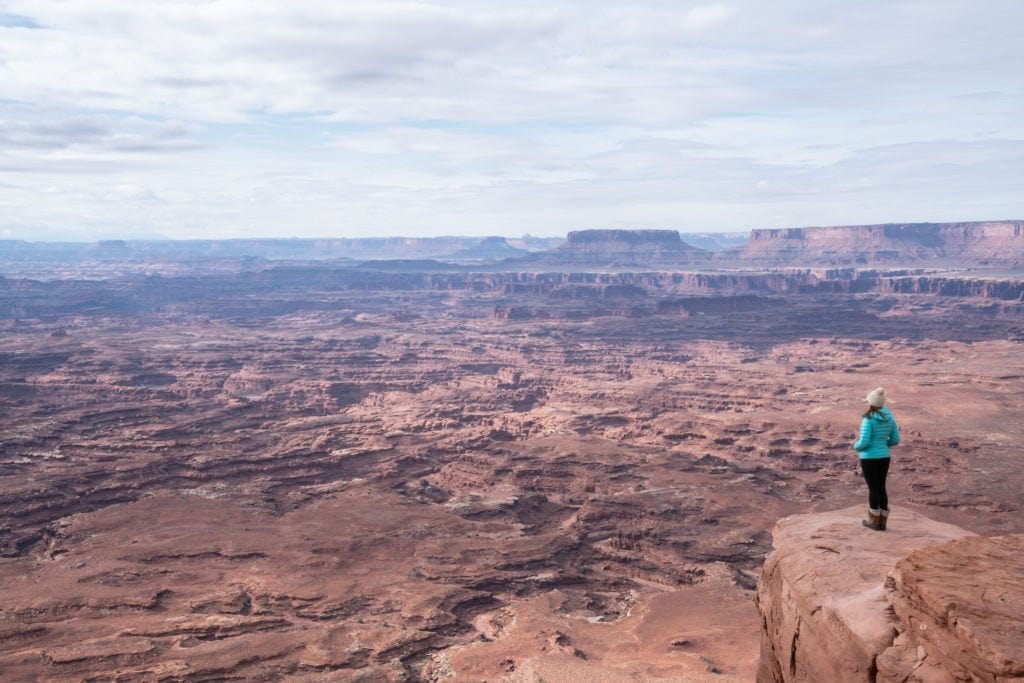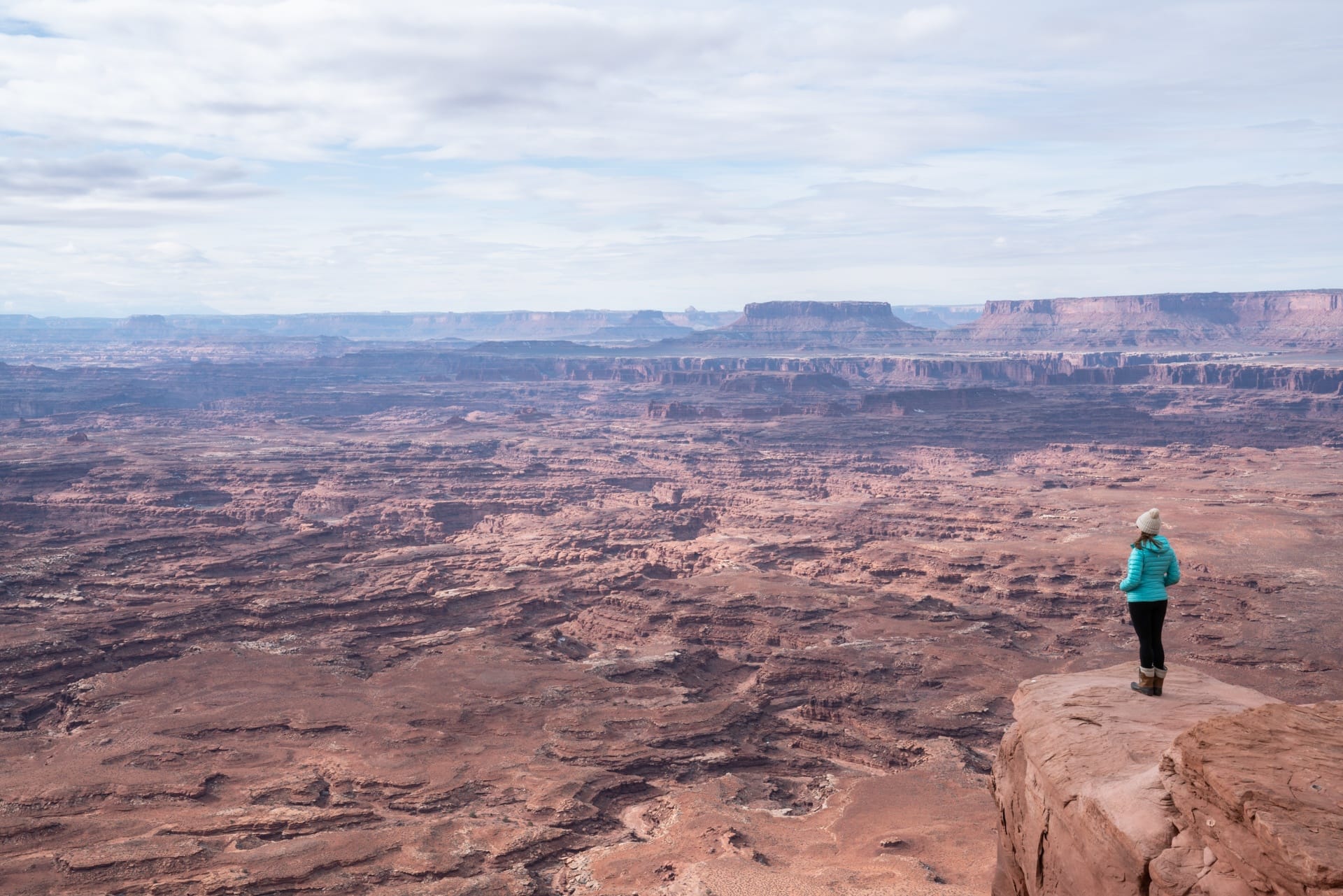 ---
How To Get To Canyonlands National Park
Canyonlands National Park is one of the most remote locations in the lower 48 states. Getting there isn't easy but the rewards are definitely worth the hassle! 
The closest airport is the Canyonlands Field Airport, located just north of Moab, a 30 minute drive to the Island in the Sky Visitor Center or a 2.5 hour drive to the Needles district or a 3.5 hour drive to Horseshoe Bend, but this is a very small airport with limited daily flights that are typically very expensive. 
We recommend flying into Salt Lake City International Airport (SLC), a 4 hour drive to Moab and Island in the Sky, a 5.5 hour drive to the Needles District, or a 6.5 drive to Horseshoe Bend. Grand Junction Regional Airport (GJT) is also an option, only 1.5 hours from Moab or a little over 4 hours to Island in the Sky district, although smaller than SLC.
Moab is the closest town to all districts of Canyonlands (only 40 minutes from the Island in the Sky Visitor Center!), with lots of lodging, restaurant, and outdoor gear shop options. We recommend staying in Moab during your visit to Canyonlands.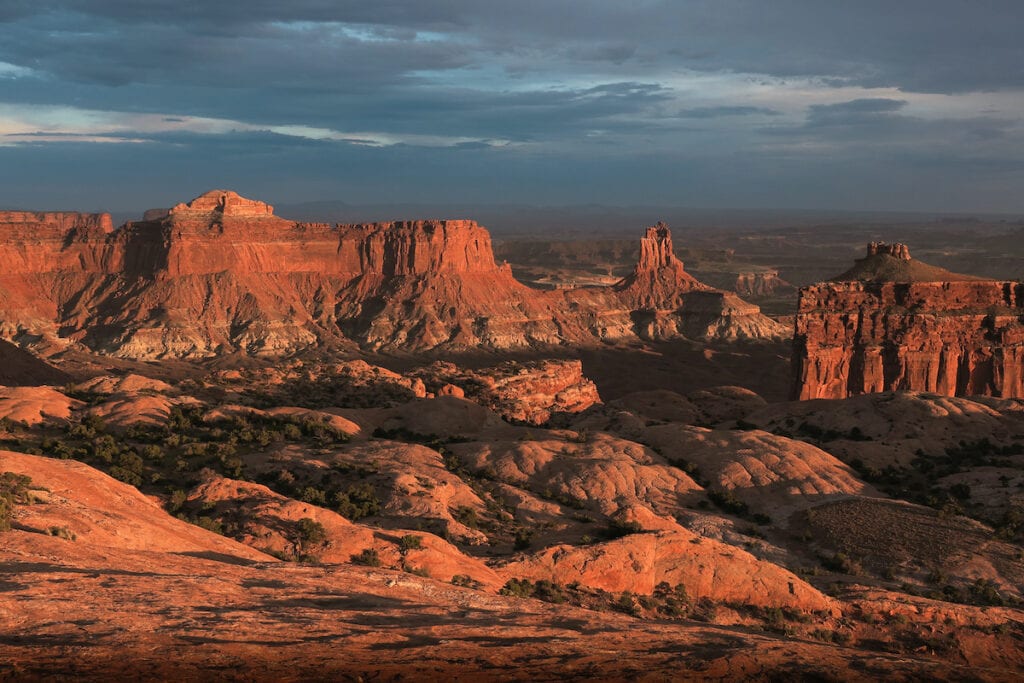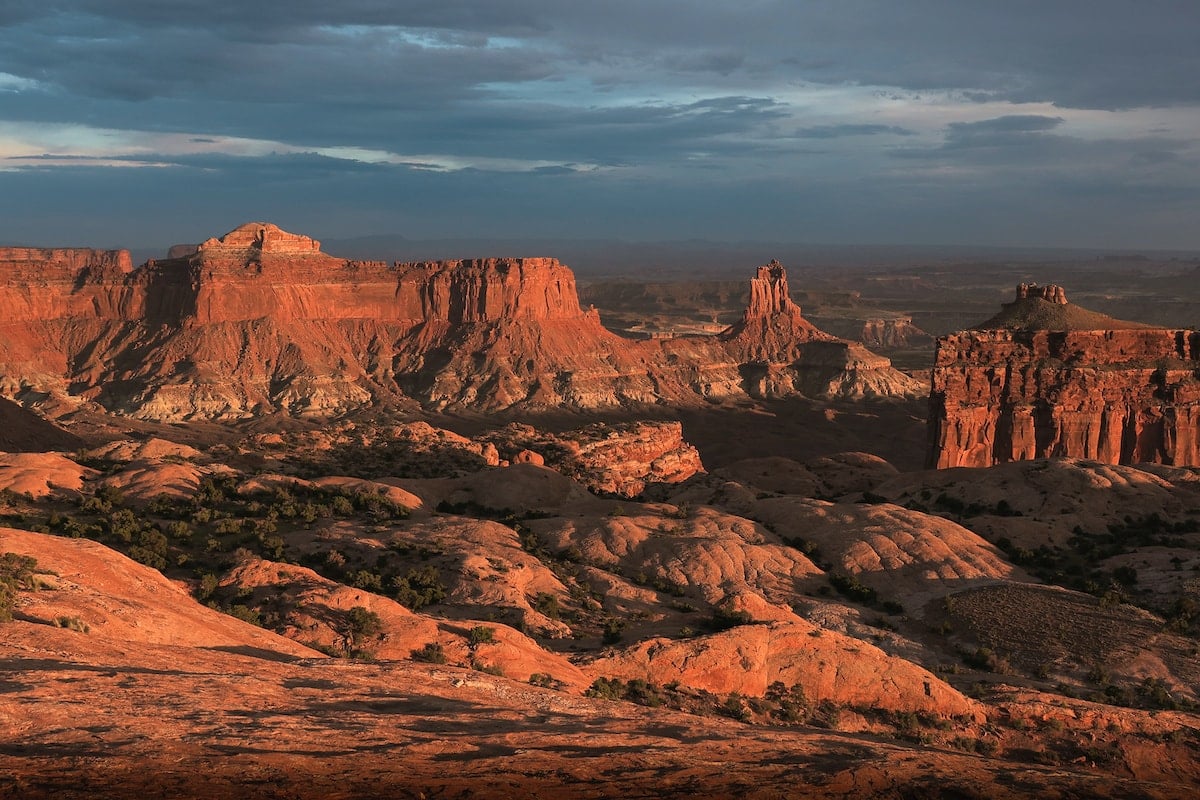 ---
Best Hikes in Canyonlands National Park
1. Grand View Point
District: Island in the Sky
Distance: 1.8 miles out and back
Elevation Gain: 160 feet
Time: 1 hour 
Difficulty: Easy
Trailhead start: Grand View Point Overlook Trailhead
With a name like Grand View Point, you know you're in for a treat. This easy 1.8 mile long out and back trail follows the White Rim to the tip of Grand View Point for mind-boggling views south into the heart of Canyonlands, including the confluence of the Green and Colorado Rivers.
This hike is a great place to wrap your head around the lay of the landscape, as many of the canyons south of the rim are totally inaccessible to humans. You might see a few tiny Jeeps down below, making their way slowly along one of the park's legendary 4WD roads. If possible, plan to hike this trail at sunset because watching the changing light and colors stream over the Canyonlands is truly a magical experience.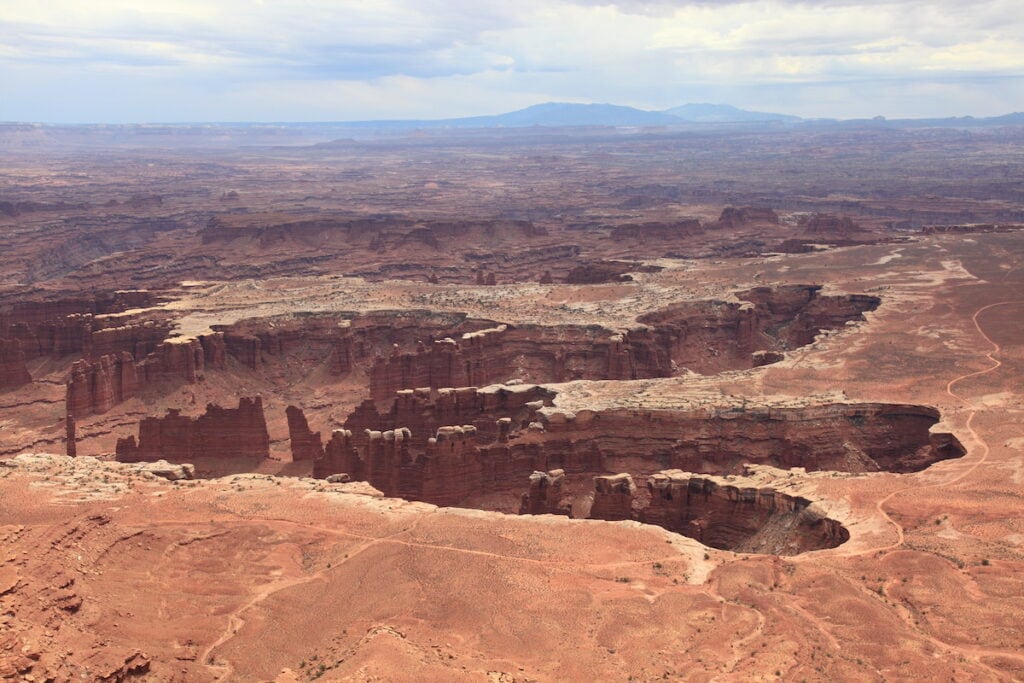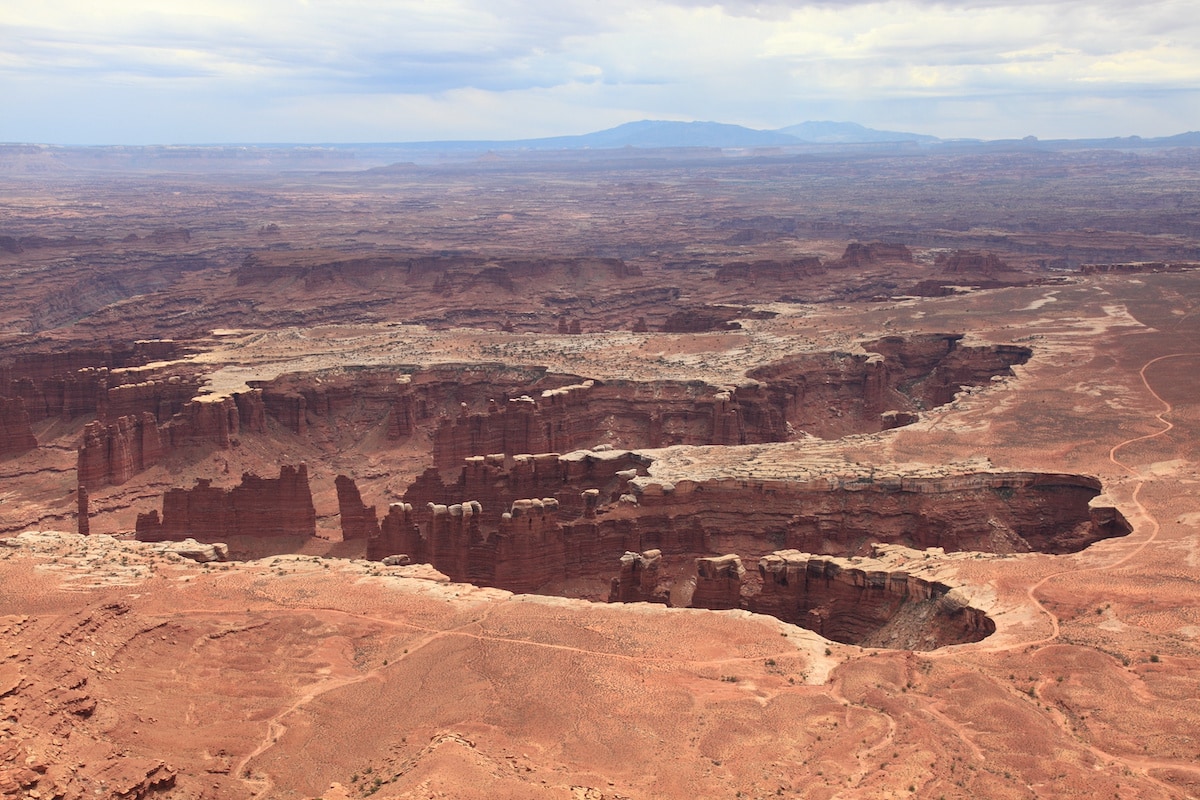 2. Mesa Arch Loop
District: Island in the Sky
Distance: 0.7 miles 
Elevation Gain: 88 feet
Time: ½ hour
Difficulty: Easy
Trailhead start: Mesa Arch Loop Parking
Visit one of the planet's most photographed arches on this easy 0.7 mile loop in the Island in the Sky district. Mesa Arch is a pothole arch that formed over tens of thousands of years as rainwater collected in a natural depression and gradually wore through the rock, forming a 27-foot wide opening on the eastern edge of the mesa.
Mesa Arch is famously photographed at sunrise when the morning rays strike the underside of the arch, which frames Canyonlands and the La Sal Mountains in an iconic desert southwest scene. Don't expect solitude at sunrise. The walk to the arch is beautiful any time of day, in all seasons, although in winter it may be icy in spots.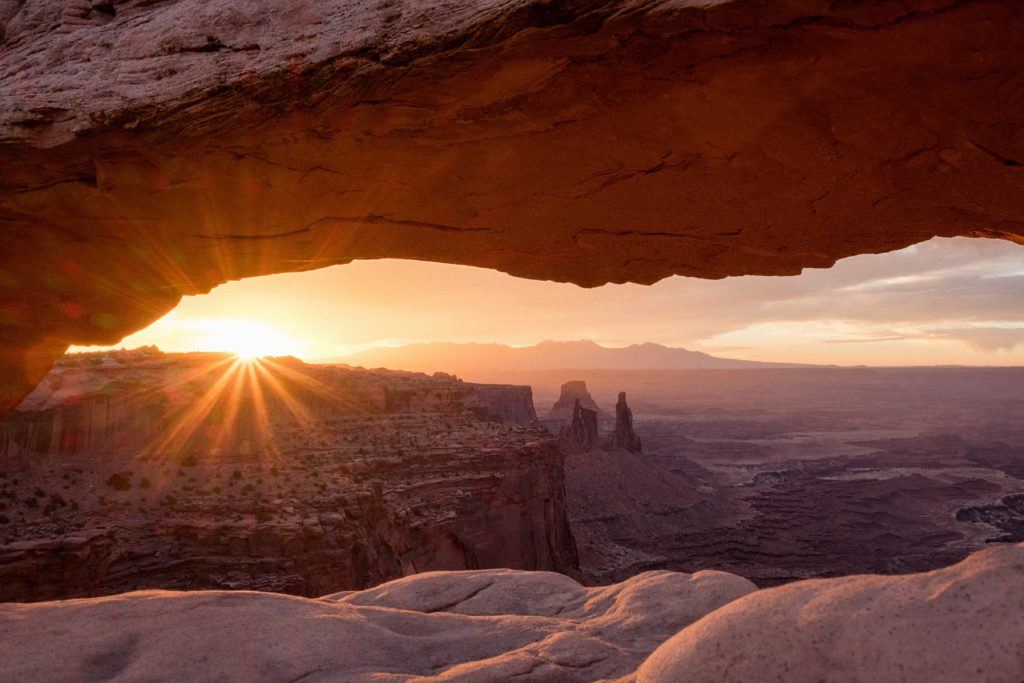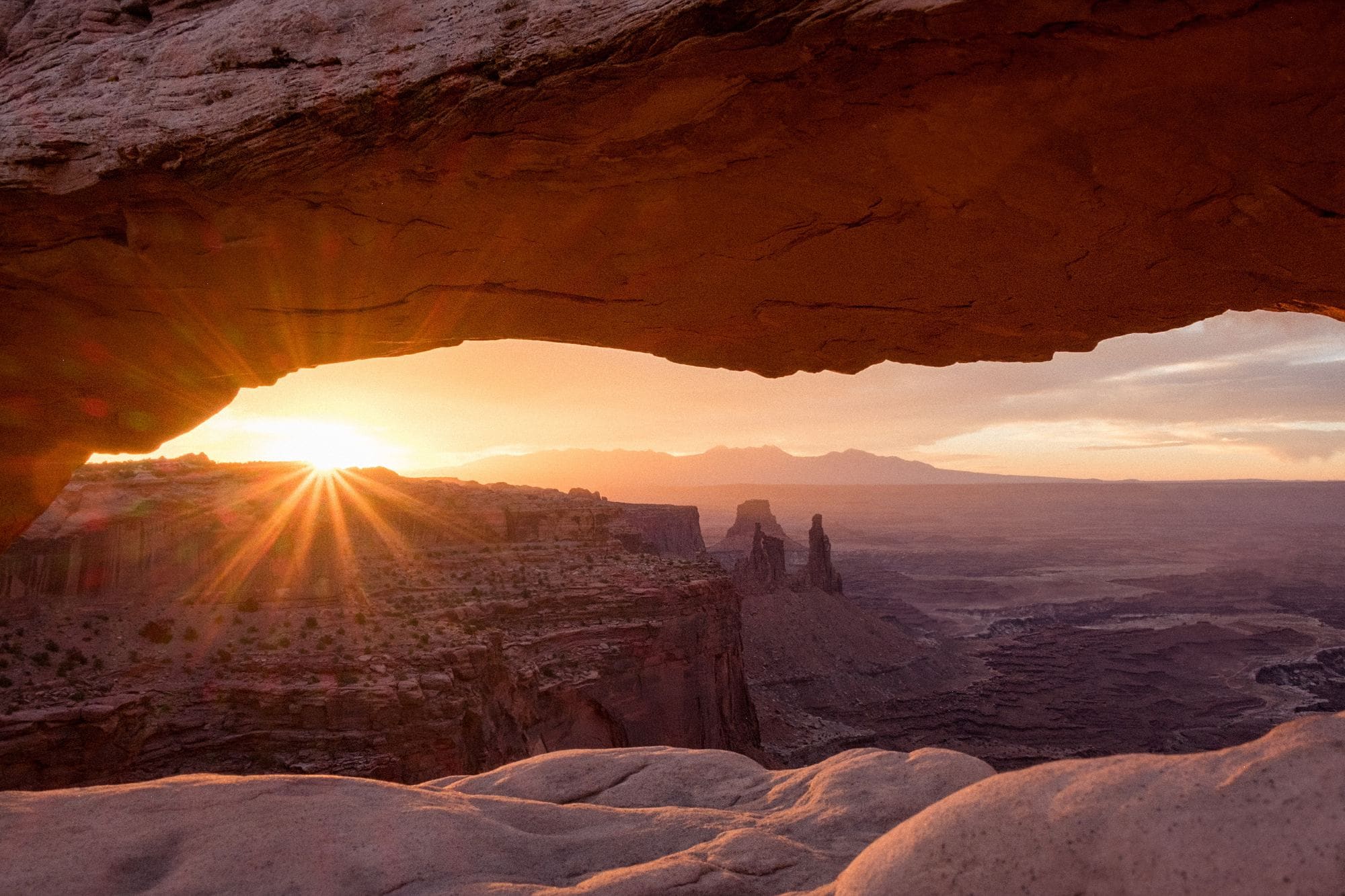 3. Syncline Loop (around Upheaval Dome)
District: Island in the Sky
Distance: 8.6 mile loop
Elevation Gain: 1,630 feet
Time: 5 hours 
Difficulty: Hard
Trailhead start: Upheaval Dome Trailhead
This is one of Island in the Sky's more challenging day hikes but the terrain it traverses may literally be out of this world. The trail circumnavigates Upheaval Dome, a curious 6-mile wide crater-like formation that could be an uplifted salt dome, or a meteor impact crater; geologists have debated its origin for decades.
Either way, the hike around the formation of colorful, concentric rings is stunningly beautiful. The park service recommends hiking around the loop clockwise for more gradual uphill climbs. Keep in mind that some parts of the hike require third class scrambling so this may not be a great hike for inexperienced hikers or kids.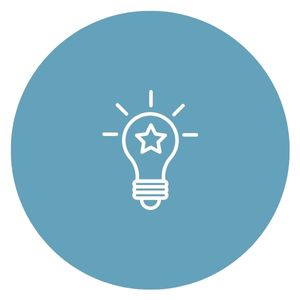 Tip: If the loop is too much to tackle, you can also view Upheaval Dome from the Crater View Trail, a short but steep 1.6 mile hike.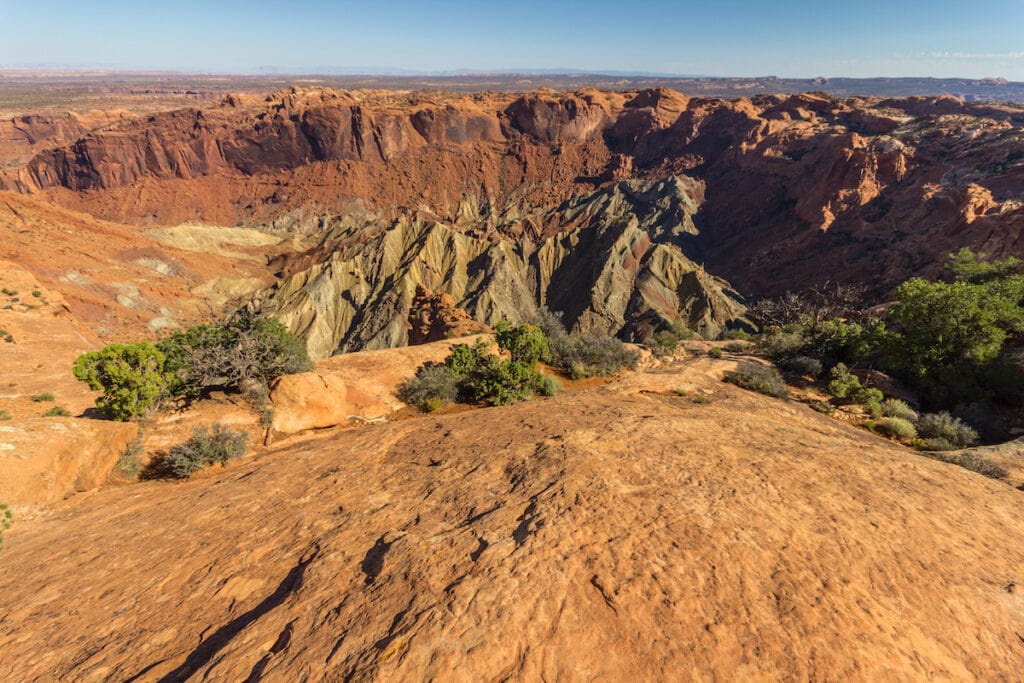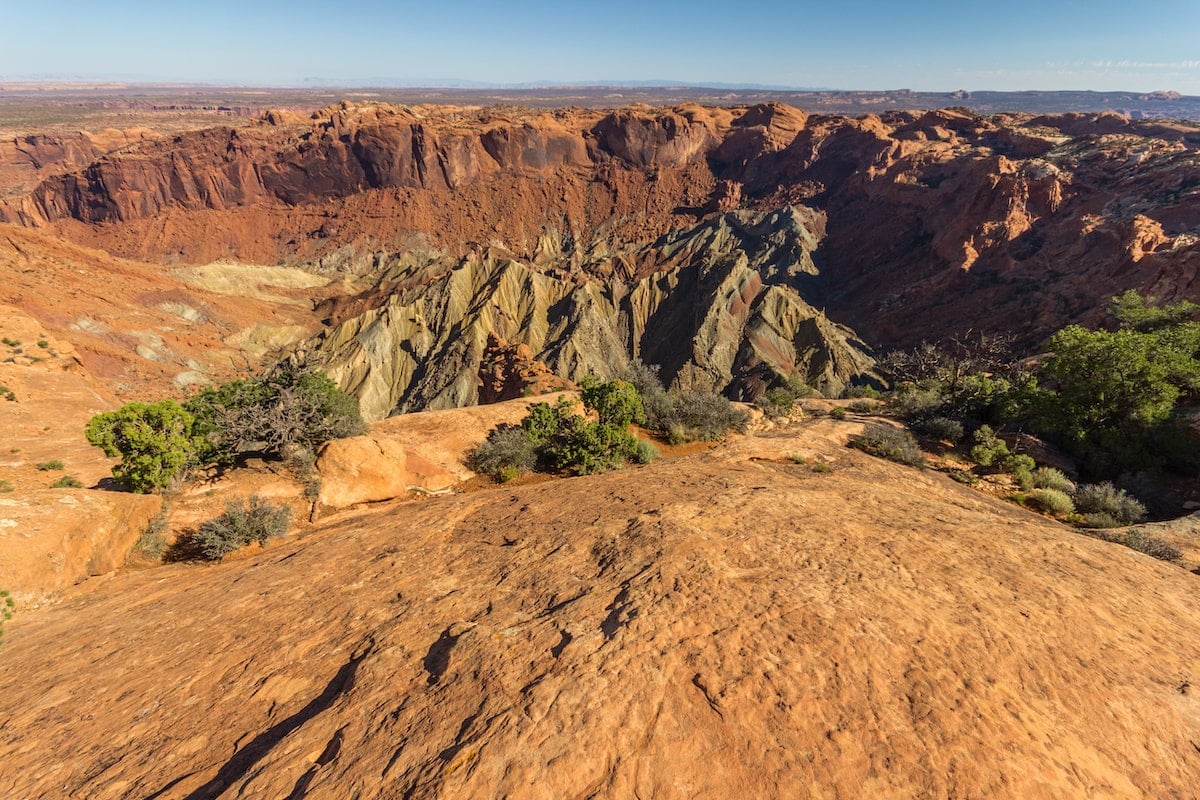 4. Chesler Park Loop
District: Needles
Distance: 10.4 mile lollipop loop
Elevation Gain: 1,820 feet
Time: 5 hours 
Difficulty: Moderate
Trailhead start: Elephant Hill (requires 4WD) alternative 2WD trailhead at Needles Campground (makes for a 12 mile round trip hike)
Scratch the surface of the Needles District on this 10.4 mile lollipop loop. The Chesler Park Loop trail leads across slickrock benches, sandy washes, and through a deep, narrow rock chasm to Chesler Park, a beautiful meadow studded with red and white banded rock pinnacles.
Sculpted by wind and water out of Cedar Mesa sandstone, these spires are what give the Needles district its evocative name. Chesler Park is also a great first stop or basecamp for multi-day backpacks through the Needles to visit seldom-seen features like Druid Arch and the Devil's Pocket.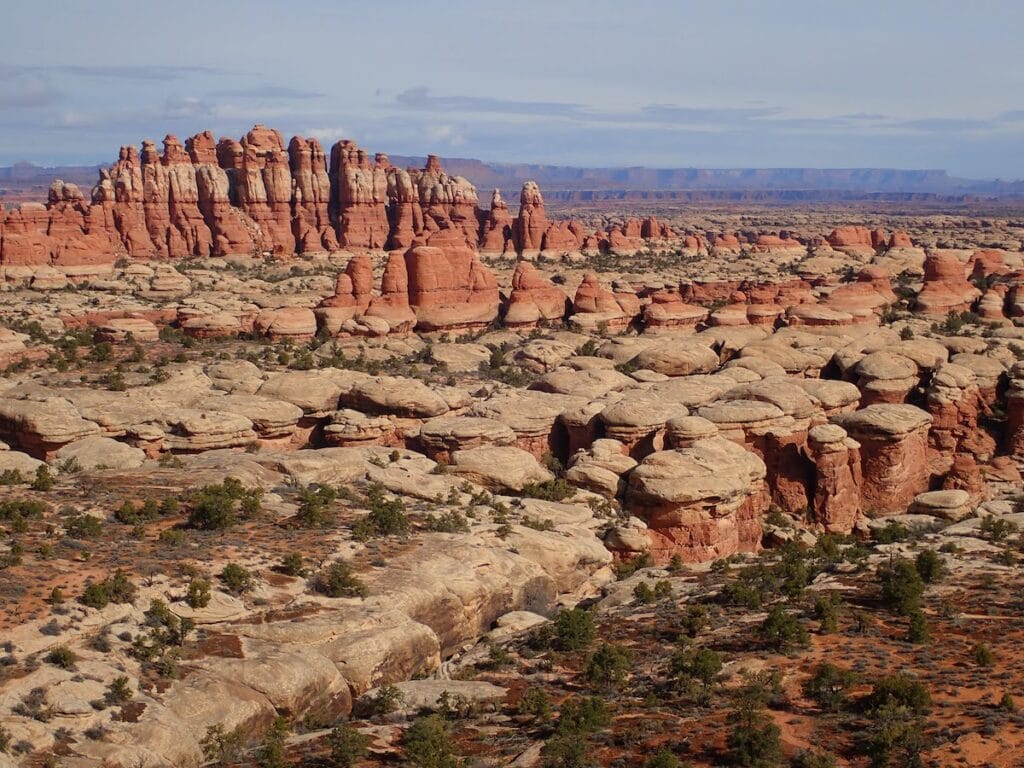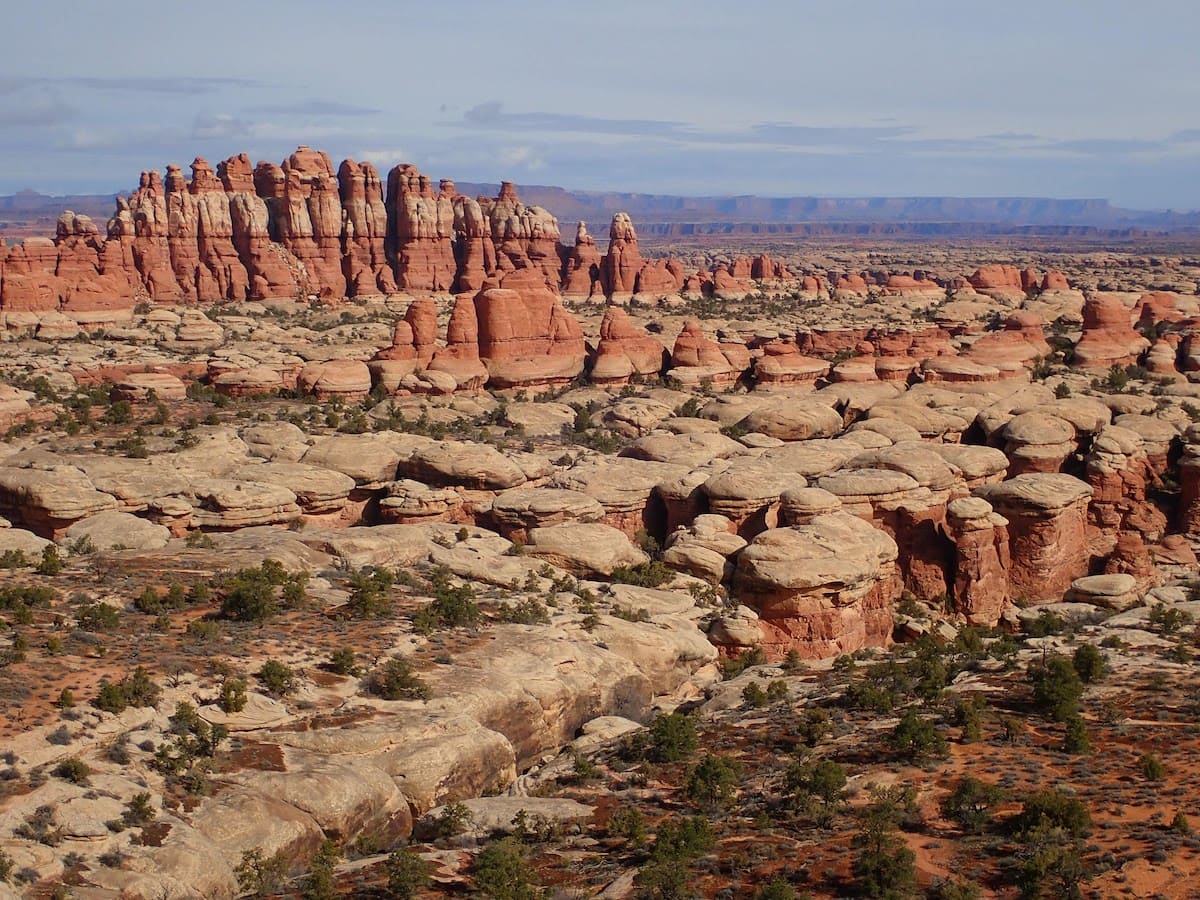 5. The Slickrock Foot Trail
District: Needles 
Distance: 2.4 mile lollipop loop 
Elevation Gain: 137 feet
Time: 1.5 hour
Difficulty: Moderate
Trailhead start: Big Spring Canyon Overlook
In slickrock country, trails often undulate across bare rocks that don't hold much sign of a path. For the uninitiated, this can be unnerving as it's often impossible to tell if you're actually on the trail or just wandering in the desert. Slickrock trails are usually marked by cairns–short stacks of rocks that point the way. From one cairn, you should be able to spot the next one and by moving between the rock stacks, you stay on trail.
If you're new to this kind of navigation, the Slickrock Foot Trail is a good place to practice. Even on a relatively well-cairned trail like this one, it's important to bring a paper map and orient yourself frequently to "handrails" in the landscape, such as a distant ridge or mountain range so you don't get turned around. Before you leave Moab, after which cell service is spotty at best, you should also plan to download the trail on your favorite hiking app.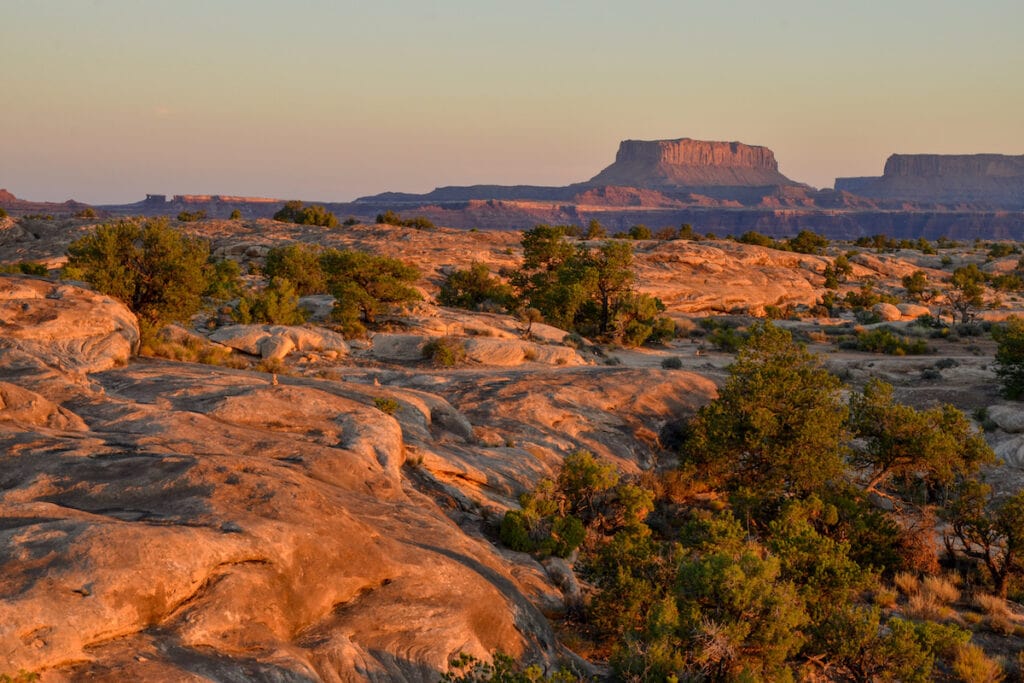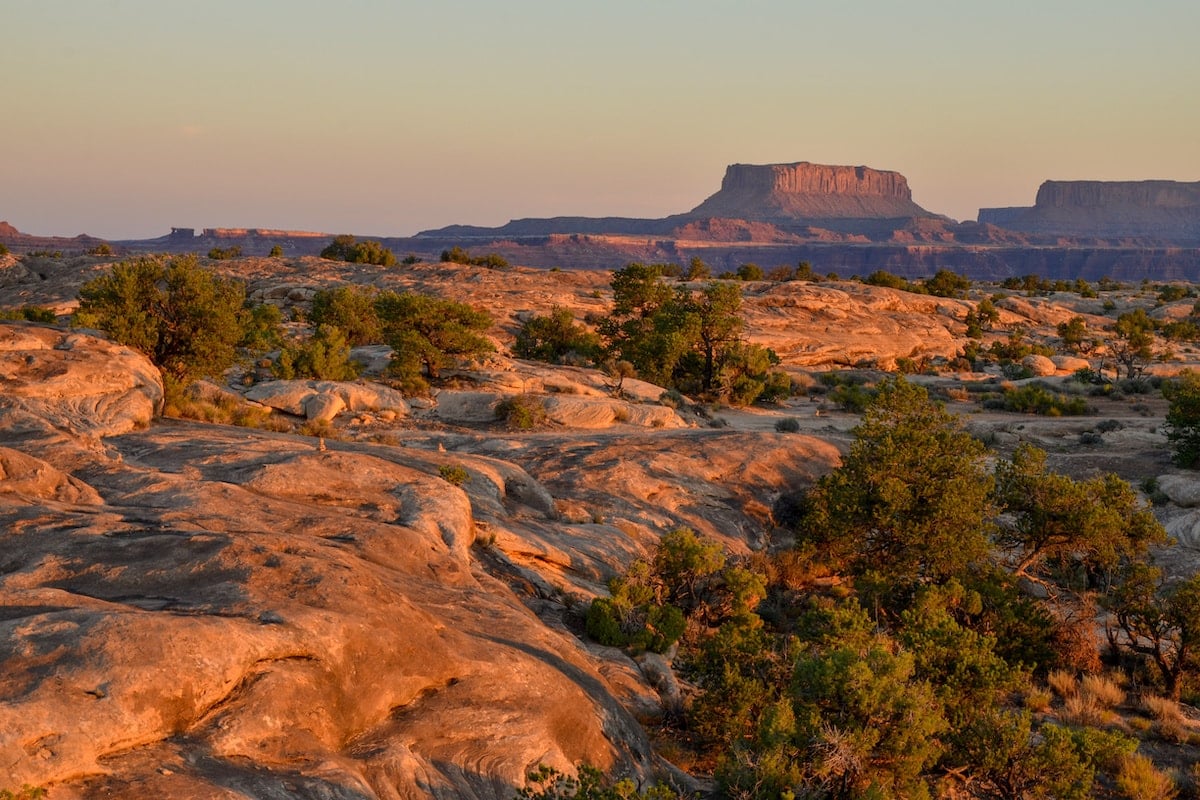 6. The Confluence Overlook
District: Needles 
Distance: 10 miles out and back
Elevation Gain: 1,371 feet
Time: 6 hours 
Difficulty: Moderate
Trailhead start: Big Spring Canyon Overlook
The mighty Green and Colorado Rivers meet in the heart of Canyonlands National Park and this confluence is one of the most significant river meetings in the southwest. After flowing together, the two rivers spill into Cataract Canyon, a legendary section of white water that boasts Utah's biggest rapids.
You can glimpse the confluence of the Green and Colorado from Grand View Point (see hike #1) but for a closer look, head out on the Confluence Overlook trail, which leaves from the end of the only paved road into the Needles District. The route traverses slick rock benches and canyons before ending abruptly at a clifftop overlook, just east of the confluence. The overlook is 1,000 feet above the rivers. You can't get down to the water here so be sure to pack plenty of drinking water in your hiking daypack.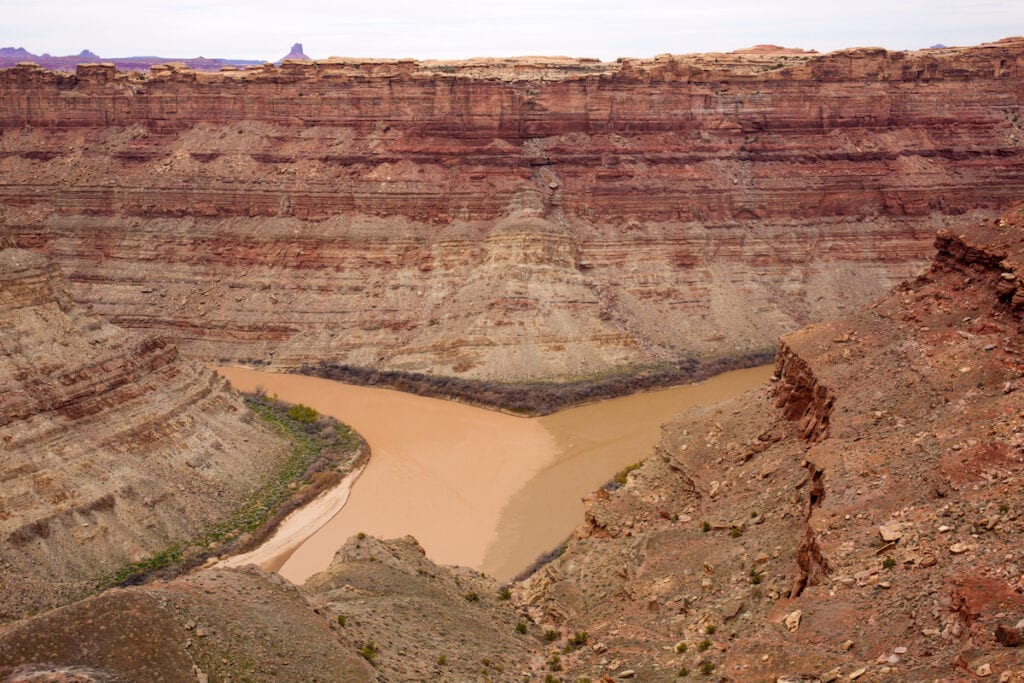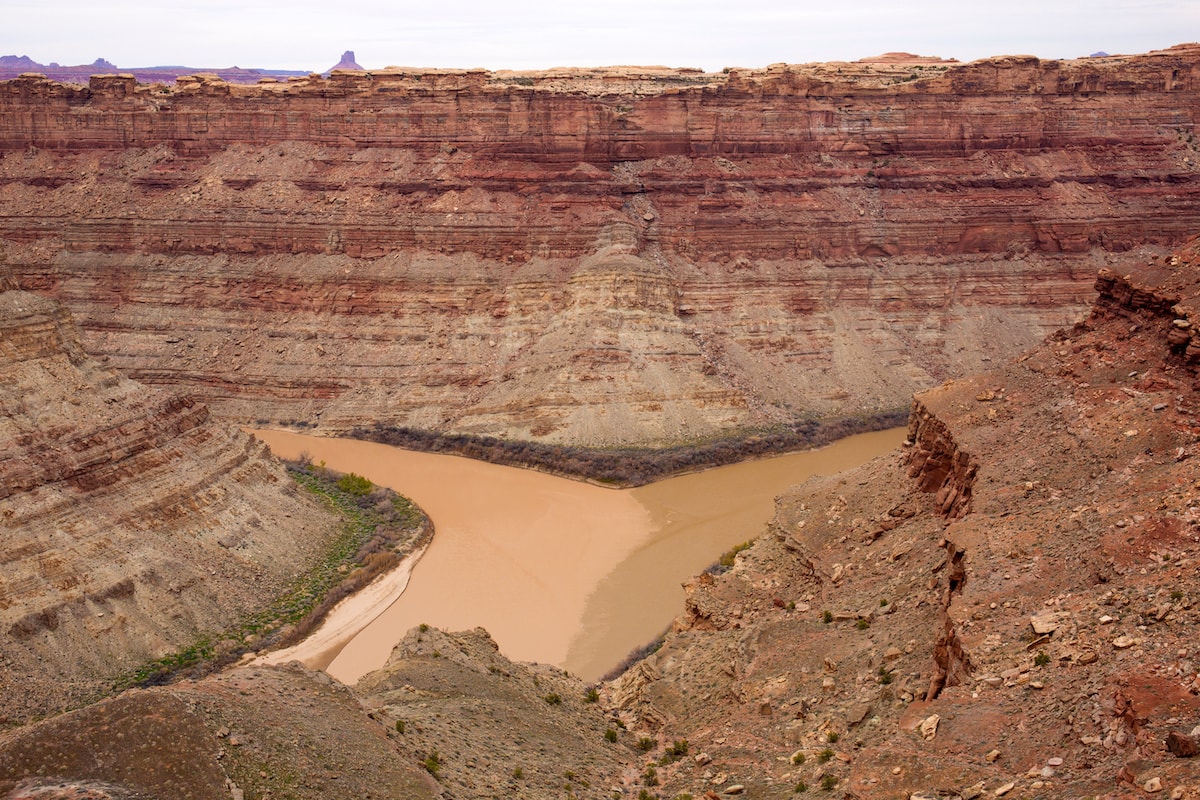 7. Horseshoe Canyon to the Great Gallery
District: Horseshoe Canyon
Distance: 7 miles out and back
Elevation Gain: 1,387 feet
Time: 4 hours 
Difficulty: Moderate
Trailhead start: West Rim Trailhead
This trail quickly drops off the edge of Horseshoe Canyon into a sandy-bottomed wash lined with towering sandstone walls and shaded by massive cottonwood trees. After 3.5 miles you'll arrive at the Great Gallery, the world's finest collection of Barrier Canyon-style paintings featuring larger than life-sized humanoid figures that hover high above the canyon floor.
Thought to be between 7,000 and 2,000 years old, the paintings were created by nomadic hunter gatherers as they migrated throughout the Canyonlands region on seasonal journeys. This hike can be very hot in the summer months and is best visited in spring or fall.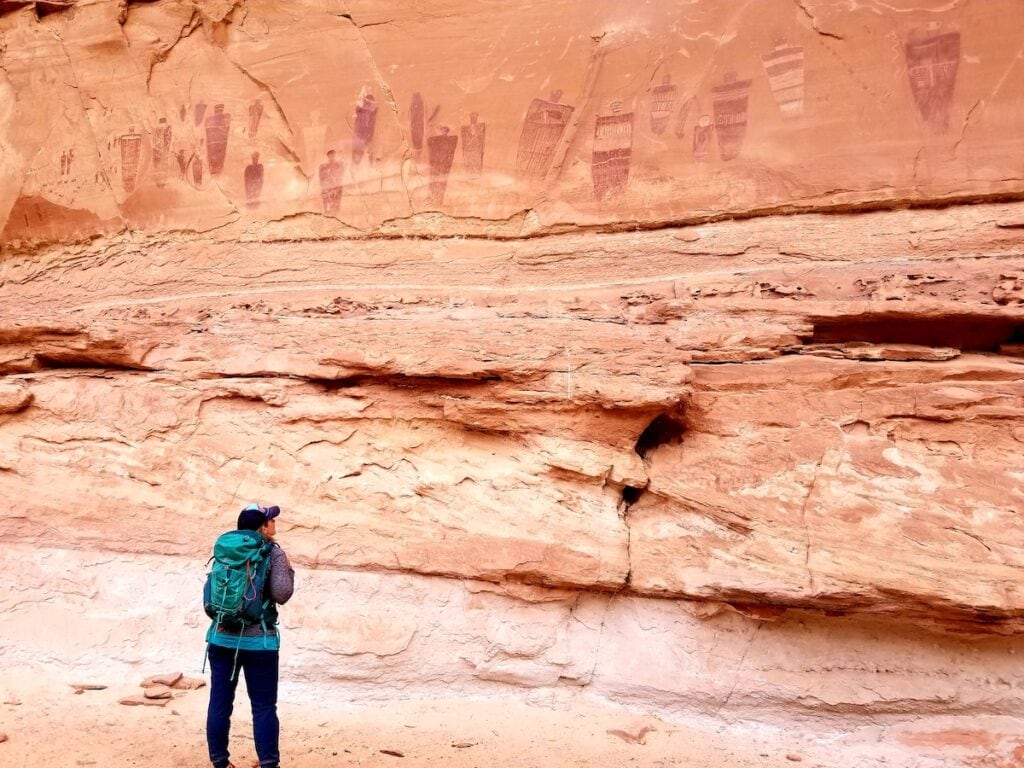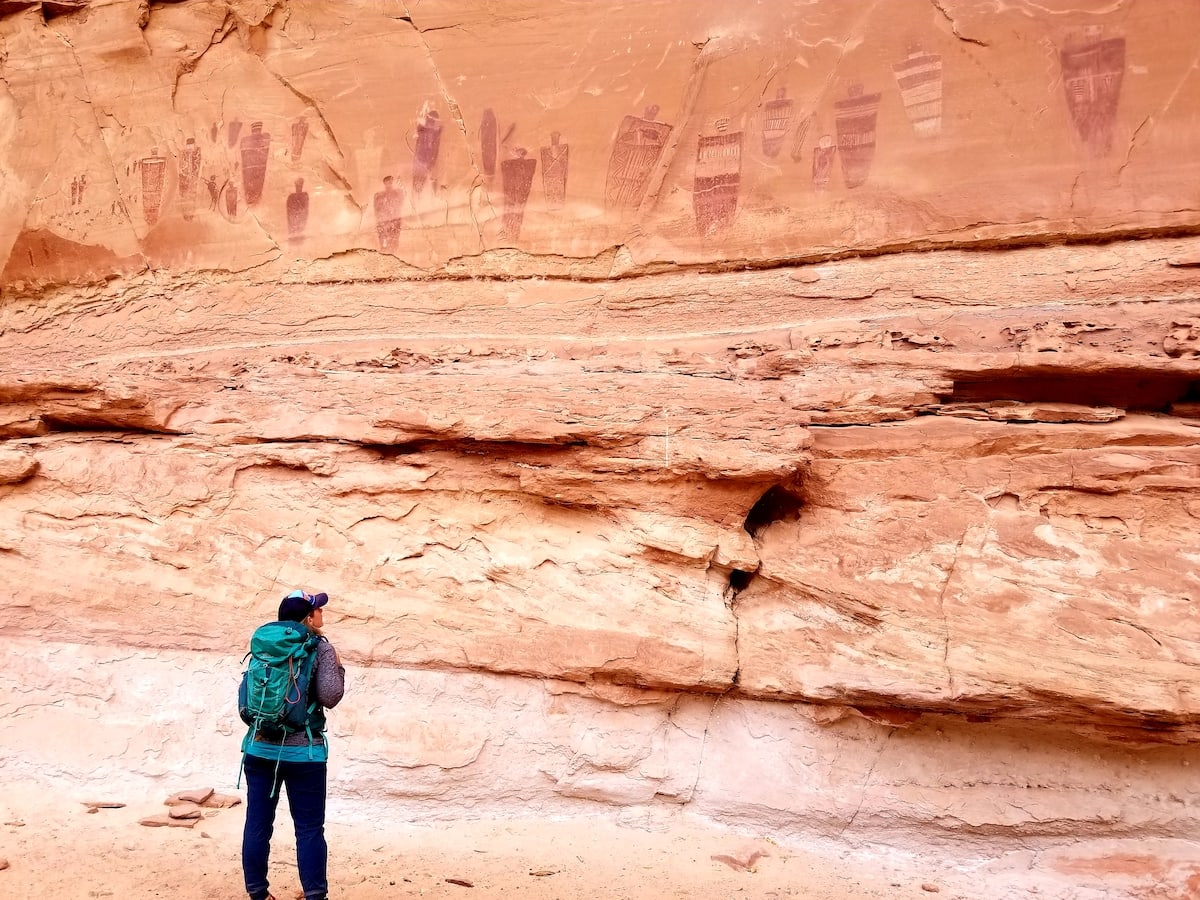 8. The Maze
District: The Maze
Distance: Varies
Elevation Gain: Varies
Time: Several days
Difficulty: Hard
Trailhead start: The Maze Overlook 
There are no day hike options into the Maze. Accessing this area west of the Green and Colorado Rivers is a serious multi-day undertaking, requiring much planning and preparation, plus you'll need a 4-wheel drive vehicle to get within hiking distance of this complex of canyons.
The Maze Overlook at Brimhall Point is 5.5 hours from Moab is a good place to start. From here you can descend into the Maze but you best be prepared for unmarked routes that weave in and out of dead-end canyons, class 3 and 4 scrambles, and no water sources for miles around.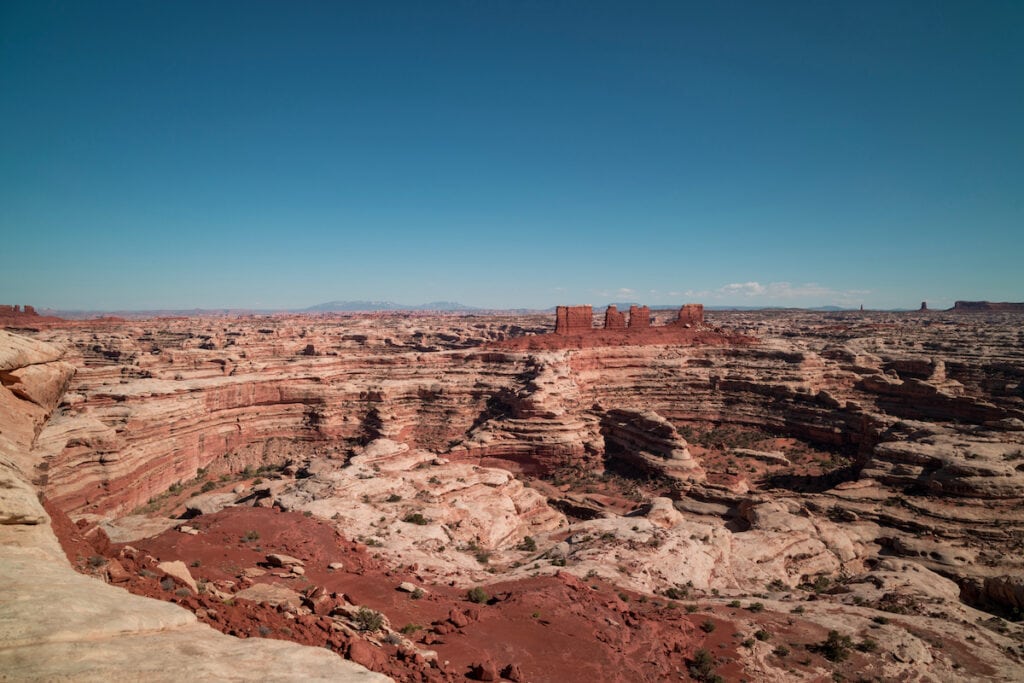 ---
Canyonlands Hiking Tips
Canyonlands National Park is one of the most rugged landscapes on Earth. Visitors should be prepared for remote desert travel, whether they are traveling by car or on foot. Here are some tops In order to stay safe while hiking in Canyonlands:
The park entrance fee is $30 per car. If you plan to visit several parks in 1 year, invest in an America the Beautiful National Park Pass to save on fees.
Dogs are not allowed on any hiking trails in Canyonlands National Park
Always keep several gallons of drinking water in your car, as well as emergency food (here's our favorite hiking snacks!) and supplies in case you become stranded. Backcountry water sources are few and far between and often crucial for wildlife.
Most of the park's roads require 4-wheel drive, with the exception of the limited paved roads in the Island in the Sky and the Needles districts.
Cell service is non-existent in much of the park. Be sure to download offline maps using your favorite hiking app. 
Hiking in the desert is usually exposed, so wear the proper desert hiking clothes and wear adequate sun protection.
The park is best visited in the spring or fall or during sunny weather windows during the winter. In summer, Canyonlands turns into a fiery furnace and hiking is not recommended during the day.
Looking for more Utah National Park guides? We've got you covered:
Related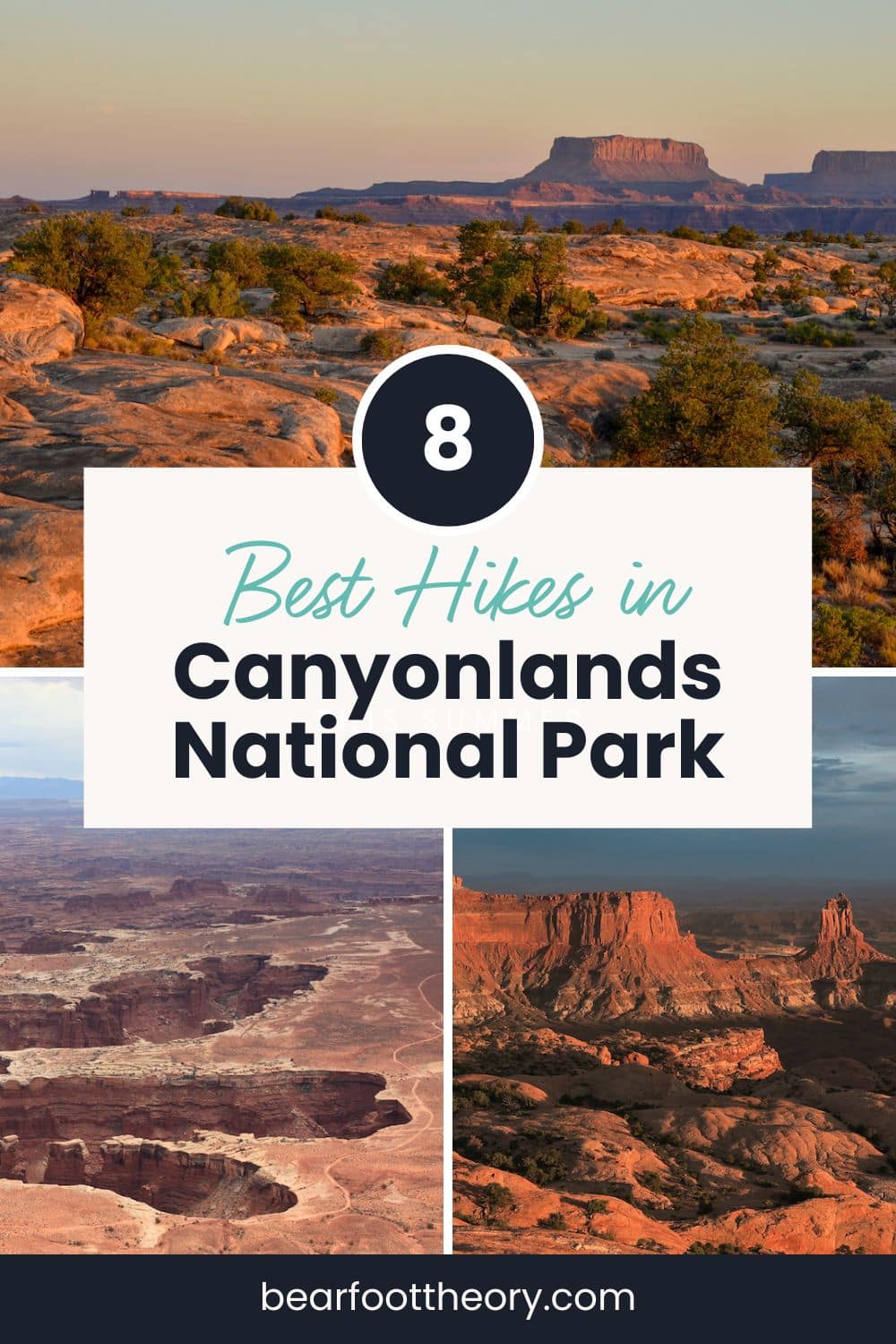 Credit : Source Post